Gallery
While photography is an artform to itself, the following are images of me by folks who have worked in other mediums. There are photos of unusual processes, drawings and a wonderful painting. I thank them all to be so honored.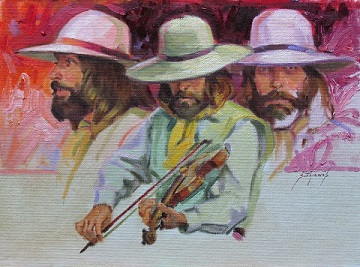 I was having shinin' times at The Fort Restaurant and some of my friends were checking out some paintings on display. They came to me and said I had to see something. My friend Sam Thiewes had painted a fine work of me! He can make anyone look good. You can see more of Sam's work at his website
Copyright © 1965 - 2014 Sam Thiewes Western Impressionist. Used by permission. All Rights Reserved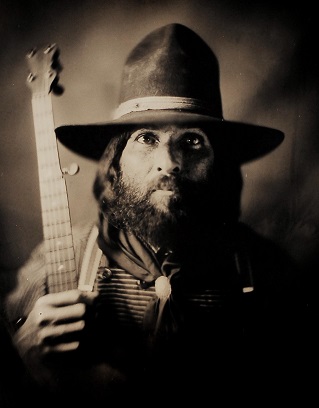 Quinn Jacobson has a singular skill at working with the photographic processes of the 19th century. He took this image of me on a 16 by 20 inch glass plate ambrotype. It was on display at the "The American West Portraits" exhibit at the Centre Iris pour la photographie in Paris, France. Look for more of Quinn's work at his website
Copyright © 2015, Studio Q - Quinn Jacobson Photography. All rights reserved. Used by permission.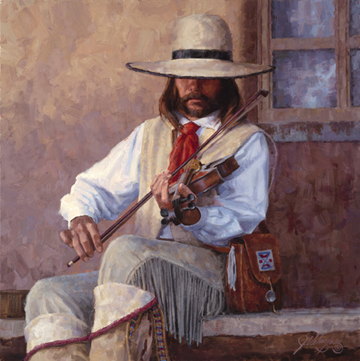 Joe Velazquez took a photo of me playing the fiddle in front of the trading post at Bent's Fort. I was back at the fort months later and he found me, told me he had something for me. It is quite a painting. Joe's work is in private and public collections in the U.S., Canada and Europe. You can see more of Joe's work at his website
Copyright © 1965 - 2014 Joseph E Velazquez. Used by permission. All Rights Reserved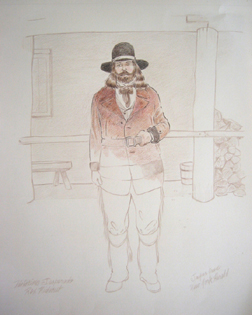 My friend Wayne Stroot was portraying himself as 19th century reporter, Jasper Green from the New York Herald at Bent's Fort during a celebration of early visitors to the fort. He made this drawing of me right there, during the event. Used by permission. All Rights Reserved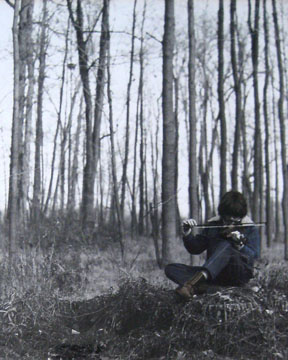 I'm fiddlin' where I began, in Wood County, Ohio, late in 1979. Hand tinted photo by my boyhood pal, Jim Venis. Taken in his grandmother's woods with his grandmother's fiddle. We were both still kids then.
Photo copyright © 1979 by James S. Vênis. Used by permission.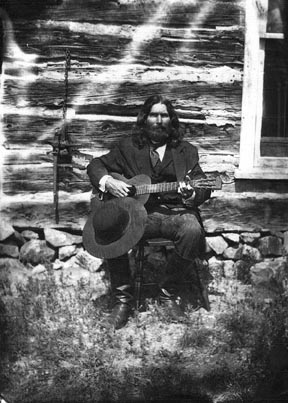 Rex at the Clear Creek Ranch Park, Golden, Colorado. Photo by John Likes, Pastiche Studio. John used a collodial wet plate process as historically would have been used in this 1880 setting!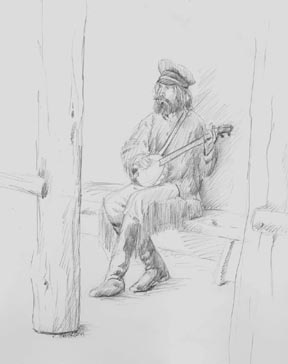 My friend Katrina Erickson drew this fine image of me plunking on a banjo at Bent's Old Fort in Southeast Colorado. I am honored to display it here.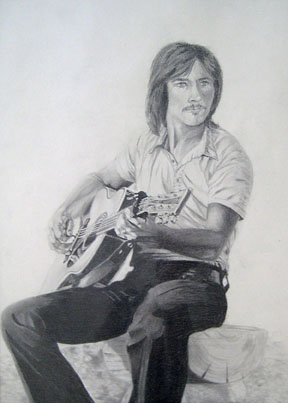 My wife, Elaine, has made some great paintings and drawings. She made this flattering image of me in the early days of our marriage sometime in the early 1980s. I'm proud to show it here.
---
Entire site Copyright © 2007–2010 by Rex R. Rideout. All rights reserved.