| | |
| --- | --- |
| | About Rex Rideout |
His interest sparked by the Scottish and German craftsmen of the community in which he was raised, Rex Rideout has studied the trades and skills of the 19th Century for more than 30 years. His strongest interests have been in woodworking and metalwork with axes and other edge tools. He's been involved in restoring and stabilizing many log buildings and other historic structures.
Rex is also a long-time student of the music and songs of the 19th-Century American West. As the proprietor of Time Travel Music, Rex has performed at countless historic sites and museums across the West. His music has also been featured on television and radio. Rex plays many musical instruments: mandolin, fiddle, guitar, banjo, and tin whistle, to name just a few. He usually joins historian Mark Gardner for Venues of the early West.
How 19th-Century Americans obtained their food, shelter, and entertainment is a fascinating study, and Rex eagerly shares his findings during his living-history engagements.
Cowboys & Aliens
The block buster film Cowboys & Aliens, starring Harrison Ford and Daniel Craig was released in the Summer of 2011. I've enjoyed seeing it a few times and find it a fine film with many nods to the old westerns. I am honored to have had a part in this. True West Magazine made the film a cover story in their September issue. Find True West's Western film reviewer, Henry Beck's interview with me from that issue below.
Confronting the fiddle player: Did Rex Rideout make it out of Cowboys & Aliens Alive?!.
Best Fiddle Player in a Mash-up $250 Million Western
True West Magazine included me in their Best of the West 2012 issue for my part in Cowboys & Aliens. I am grateful to be so honored.
Round the Campfire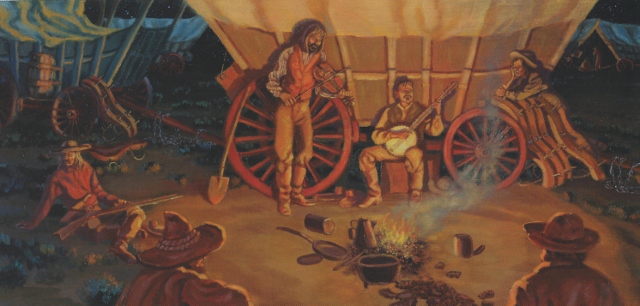 My friend Ron Kil created all the artwork for our Jack Thorp book. He was requested to create images for the New Mexico Official Centennial Statehood calendar in 2012. He put us in the camp scene for the month of June. Thank'ee Ron, you make us look good! Mark and I are honored to appear in your work.
YouTube
Mark and I had the pleasure of joining Jon Chandler for his ASL show with Doc, Jeff, Johnny & Ernie. This is the Pecos River Queen. Pecos River Queen Here am I playing Jack Thorp's Frijole Beanses to my own melody. Frijole Beanses . Mark and I are in some more cozy quarters, The Bunkhouse Orchestra
Please visit my Youtube Channel where you will find this and more. Rex Rideout Youtube Channel
FaceBook
FaceBook is a handy medium. I'm able to post stories and keep up with my fellow musicians, friends and family. Look for notes about recent events, songs, photos and who knows what there. Rex's FB page
"BEST MUSICAL TOUR OF THE WEST"
True West Magazine awarded Mark Gardner and I "Best Musical Tour of the West" in their 2009 Best of the West issue. "...Thorp published the first collection of cowboy songs in 1908, and Old West music revivalists, Mark Gardner and Rex Rideout brought those songs to life at concerts in New Mexico during 2008 --- on vintage instruments, no less. ... For those who heard the show, Jack Thorp's words hung in the air." Mark and I are honored to be recognized by a such a champion of the preservation of Western heritage.
JACK THORP
In the year 1908, Jack Thorp visited P.A. Speckmann at his print shop in Estancia, New Mexico and had him print 2000 copies of his "Songs of the Cowboys". Mark and I performed all around the West in 2008 telling everyone of the centennial of the very first book of cowboy songs. We will continue to celebrate Jack's legacy. The Center for Western and Cowboy Poetry or, Cowboy Poetry at the Bar - D Ranch has assembled a great study of the early cowboy writers and showcase contemporary writers and events today. They have assembled the most complete study of Jack Thorp known to me. I invite you to visit their page here about Thorp and then stay to see everything else they offer.
Mark Lee Gardner I first visited Bent's Old Fort in '83. There in front of the trading post was this fellow playing some old tunes on a banjo. It was just what the place needed. It brought things to life and completed the setting. That was musician, historian and author, Mark Lee Gardner. I see us as kindred spirits, we see the value of keeping these old songs alive. Over the decades we've been on the same mission, often together as a duo which is what I prefer. On his website you'll learn more about him, his projects and many books that he's published. Besides his skill with the banjo, he's one of the best bones players I know of and is dandy with a tenor guitar! Check out Mark's latest book, "Rough Riders: Theodore Roosevelt, His Cowboy Regiment, and the Immortal Charge Up San Juan Hill" To see all of Mark's books, CDs and projects, click here.
---
Entire site Copyright © 2007–2021 by Rex R. Rideout. All rights reserved.